The Puccini Society of Dallas Presents

The Wind Song Trio
Haley Sicking, Soprano,
Robin Korevaar, Clarinet, and
Jonathan Tsay, Piano

Sunday, January 13, 2019, 3:00PM

Hosted by Bill and Leslie Cornog
6812 Hunter's Glen Road
Dallas, TX 75205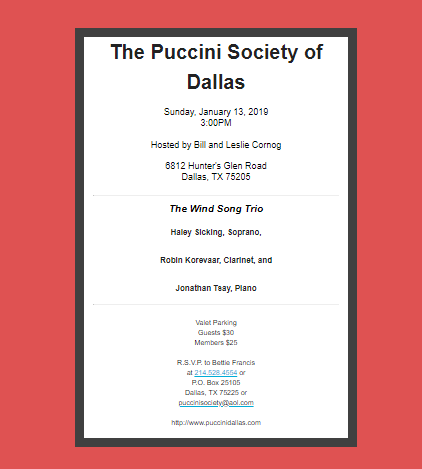 Valet Parking
Guests $30 – Members $25
R.S.V.P. to Bettie Francis
P.O. Box 25105
Dallas, TX 75225 or
puccinisociety @ aol.com
http://www.puccinidallas.com
Puccini Friends: Happy New Year! We begin the new year with a program presented by the Wind Song Trio on Sunday ( not the usual Sat.) afternoon, Jan. 13. You may recall this trio presented our program a few years back at the home of Faye Briggs and were enthusiastically received by all.
Haley Sicking, soprano recently sang on the program given in conjunction with the Dallas Opera's Women Conductors Symposium with the Dallas Opera Orchestra under the direction of Emmanuel Villaume. She will sing for us along with Robin Korevaar, clarinet and Jonathan Tsay, piano. This fine professional trio has presented various programs throughout the community, among which is the Basically Beethoven summer series at the Moody Performance Hall.
Our program is given in memory of our well remembered member, Gus Hoehn. Gus was a music enthusiast and life long clarinet player in addition to being a successful engineer. Many of Gus' friends will join us to remember and honor him.
We meet at the lovely, art filled home of Bill and Leslie Cornog, 6— Hunter's Glen, 75205, at our regular 3:00 time. I hope to see you there!
Marilyn Halla