The Puccini Society of Dallas & UNT College of Music Present: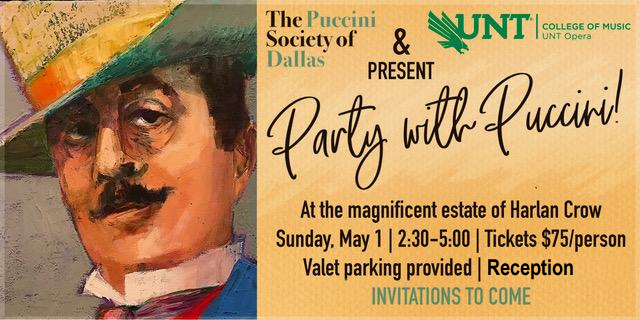 Party with Puccini at the Magnificent Estate of Harlan Crow
Sunday, May 1, at 2:30 PM
Tickets $75/person
Valet Parking | Refreshments
Puccini Friends;
What a wonderful event we had on May 1st!
We were forced by the pandemic to postpone this program twice, so I was delighted to arrive on a beautiful spring day to finally present this concert by the talented young artists from UNT. We can all thank Jonathan Eaton for the delightful program with clever staging and gifted singers! We certainly got our Puccini "fix"! And once again we can all thank Mr. and Mrs. Crow for their generous and gracious hospitality. Their home is probably the most extraordinary home in Dallas. I think everyone appreciates their collection of historic American treasures along with their art and antiques. There is so much to be admired. Perhaps a few of us will want to thank them personally with a note.
UNT School of Music Dean, John Richmond, assured me they are happy to collaborate with us in the future. And I think we will plan to feature some of these fine singers on programs next year. Several of them told me they would be happy to sing for us again.
I was very happy that members of the Opera and Symphony Guilds joined us, contributing to a capacity crowd. Several members of the DSO Guild were delighted to learn about us and will probably join us again or perhaps become members.
As always, Jana and Mac Irwin get a lot of credit for their preparation for our event. Jana sent invitations and received reservations and then emailed confirmations which was a big undertaking since they were away with family in Colorado the week prior to our program. Patsy and Bob Brooks were also on the planning committee, working with the caterer and providing the wine. Both these couples get credit for all our events and receptions. We are all so grateful to them for their ongoing work on behalf of the Puccini Society.
Our DSO friend David Stubblefield took lots of great pictures which I'll share and ask pur webmaster, Ed Flaspoehler, to post on our web site. I know others took some good photos too, and I am happy to share those with everyone if you send them to me.
Thank you for your wonderful support of yesterday's event!
Marilyn Halla, President
Puccini Society of Dallas
Photo Gallery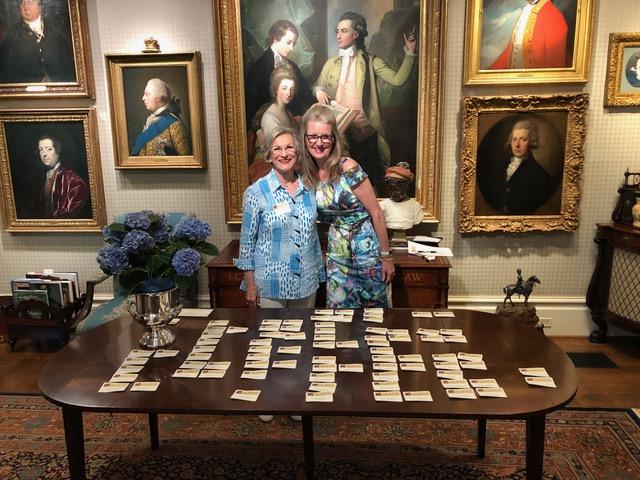 Photos by David Stubblefield