The Puccini Society of Dallas in cooperation with St. Matthew Cathedral Arts presents
Women's Voices III
Songs and Duets for Voices and Piano
Courtney Maina, Soprano
Christopher A. Leach, Tenor
Mary Dibbern, Piano
Sunday, October 23, 2022 at 3:00 PM
Collora Piano Recital Hall, 1451 Wycliff, Dallas, TX – Free Parking and Admission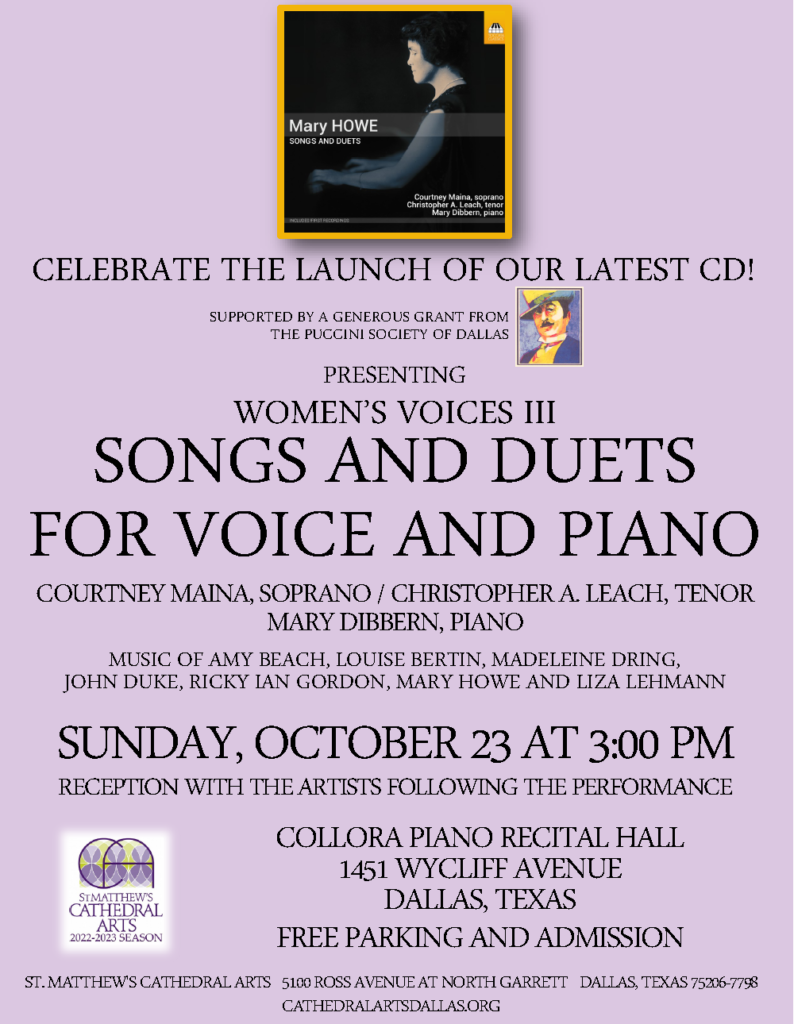 Puccini Friends;
I want to thank Mary Dibbern and our singers, Courtney Maina and Christopher Leach for a lovely afternoon of charming and beautiful songs! It was a delightful afternoon shared with the St. Matthew Cathedral Arts Series. Mary recently premiered a new CD of songs by Mary Howe, a well know and respected professional pianist and composer from the mid-1900's. Howe, along with other women in her field, had slipped into obscurity until the release of this new CD by our outstanding Dallas musicians. The Puccini Society is proud to have been a sponsor of the production of this recording.
Included on our program were songs by other women composers, Amy Beach being the most well known, and songs with lyrics by women poets (Emily Dickinson and others). Did you know Victor Hugo's prose on the subject of La Esmeralda became an opera by Louise Bertin? The program was enlightening as well as beautiful.
Our next program is scheduled for Nov. 19 at the home of Barbara Bradfield on White Rock Lake. Details will follow in our invitation. Stephen Dubberly from the opera department of UNT will feature singers he is very enthusiastic to present. Stephen always brings us a wonderful program and we can look forward to another outstanding afternoon.
In the meantime we can enjoy the Dallas Opera production of Hansel and Gretel with an outstanding cast of singers.
Best wishes to all,
Marilyn Halla