Puccini Friends;  
After what seems like a long intermission, we're ready to finish the season with two nice events.  
Our final Puccini program for this season will be on May 27.  Bethany Jelinek, winner of the People's Choice Award  at our recent  Dallas Opera Guild Vocal Competition will present our program. 
Our invitation and details will be coming soon.
The Lafayette Musicians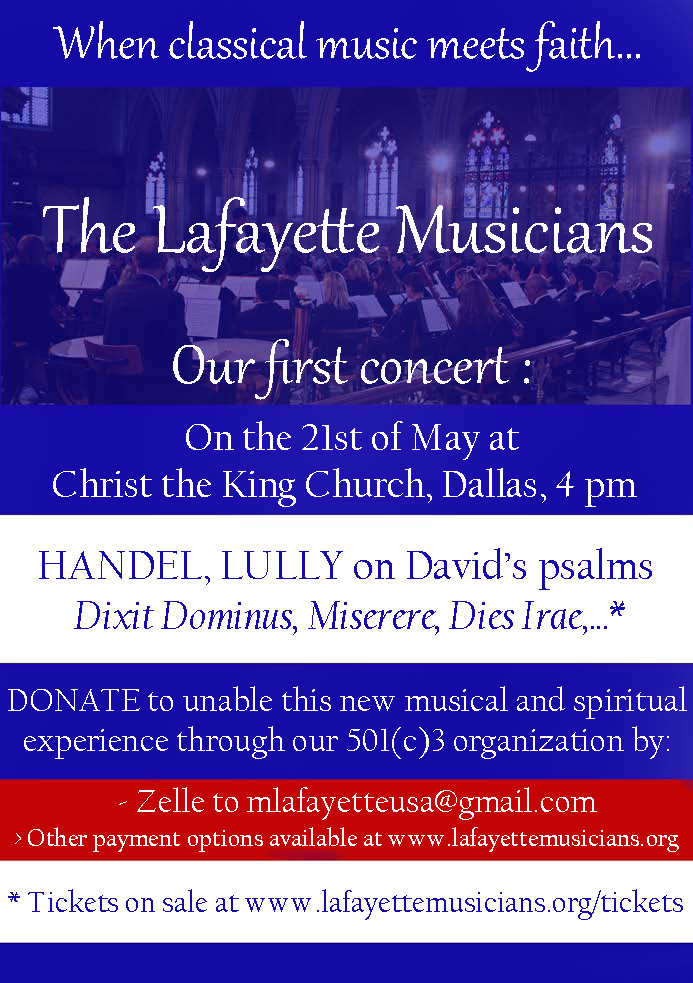 Matthieu Peyregne du Mortier, who presented an early French music program for us last season has created a new organization called Lafayette Musicians.  Their first concert is on May 21 at 4:00 p.m.  See the information which follows.
Under the direction of Matthieu  Peyregne du Motier,  a French conductor specializing in baroque music, the Lafayette Musicians, a new professional orchestra and choir plans to perform 4 great Sacred classical music concerts every year.
Their inaugural concert will be held on Sunday, May 21st at Christ the King Catholic Church in Dallas, Texas at 4pm.
The concert will feature:
Handel and Lully on David's psalms : Dixit Dominus, Miserere, De Profondis,…
This incredible music will be performed on historical instruments. In addition, the audience will receive booklets with translations and theological explanations to enhance their understanding and enjoyment of the concert.
Marilyn Halla
Puccini Society of Dallas