THE PUCCINI SOCIETY OF DALLAS
presents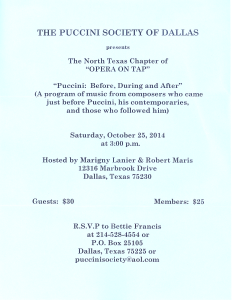 The North Texas Chapter of
OPERA ON TAP
"Puccini: Before, During and After"
(A program of music from composers who came just before Puccini, his contemporaries, and those who followed him.)
Saturday, October 25, 2014
at 3:00 p.m.
Hosted by
Marigny Lanier and Robert Maris
There's no question that the Puccini Society is off to an exciting start of a new season.  Our meeting at Marigny and Robert's beautiful home couldn't have been better!  Their room is an ideal place for a singer with the high ceiling, hard surfaces, and fine piano.  I'm sure each of the performers appreciated sounding their best in their lovely space.  Their warm hospitality was enjoyed by all, and we were all delighted to be with them again.  How nice; they even furnished a handsome young bartender—many thanks to Tommy.
Jeff Snider's group of talented singers presented an outstanding program which was enthusiastically appreciated and will be fondly remembered.  It was a treat to hear each of the outstanding singers, and the repertoire was very well chosen.  We always enjoy familiar arias and selections, but some of those presented on Sat. were not so familiar, and deserve to be heard.  Each is a "gem" and was well received.  An added bonus was Jeff's introduction to each selection which was informative and comically entertaining.  Accompanist Mark Graham was outstanding as well.  We hope "Opera On Tap" will return for an encore on another occasion.
It takes a whole troop of members to provide such a special afternoon, and many of you participated in its success.  Bettie sends our lovely invitations and keeps the RSVP list, as well as greeting us and checking everyone in.  Her years of tireless service to our society are deeply appreciated by all.  Sharie has done a great job on membership renewals, and if you haven't taken care of yours yet, please send it in right away.  Marion often arranges for our venue, and Patsy coordinated the reception. Many of you provided the bountiful and delicious food.  Cynthia's pumpkin cake roles were really elegant and special (made with loving hands) and Patsy, Sharie, Mona, and Marigny filled the table with a wonderful selection of goodies, along with Bettie's often requested homemade cookies.  Jana is taking good care of our finances, and that continues to be in good hands.  Ed took a number of good pictures, and plans are being made to establish a Puccini Web page to advertise our programs. No wonder our group continues to grow and thrive!
I'll look forward to seeing you all again on Nov. 15 at the home of Katie Engstrom, with Audra Methvin presenting our program.
With sincere appreciation to each of you for your participation,
~ Marilyn Halla
The Puccini Society of Dallas, P.O. Box 25105, Dallas, TX 75225