THE PUCCINI SOCIETY OF DALLAS
presents
The Wind Song Trio
Haley Sicking, soprano, Robin Korevaar, clarinet, and
Jonathan Tsay, piano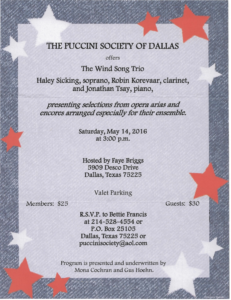 presenting selections from opera arias and encores arranged especially for their ensemble
Saturday, May 14, 2016
Puccini Society at 3:00 p.m.
Reception at 4:00 p.m.
Hosted by Faye Briggs
5909 Desco Drive
Dallas, Texas 75225
Valet Parking
Guests: $30 Members: $25
Program is presented and underwritten by Mona Cochran and Gus Hoehn
R.S.V.P. to Bettie Francis
at 214-528-4554 or
P.O. Box 25105
Dallas, Texas 75225 or
puccinisociety@aol.com
Our final program for the year is scheduled for May 14 at the home of Faye Briggs. We are very grateful to Gus Hoehn and Mona Cochran for underwriting and presenting our program. The ensemble is called Wind Song—made up of soprano, Haley Sicking, Robin Korevaar, clarinet, and Jonathan Tsay, piano. I recently heard them in concert at the DMA, and I know you'll love their program. They will present selections from opera arias and encores arranged especially for their ensemble. Perhaps this will be a first for many of us, and I know you'll relish every moment of their program. Be sure to put this on your calendar now; invitations will be sent at the end of the month.
Gus Hoehn, with a PhD in Physics and Electrical Engineering and now retired from Exon, has a special interest in woodwind instruments, as he is an accomplished clarinet player himself. Since his days in the SMU Mustang Band in the 1940's he has participated in bands and ensembles around North Texas, including the Richardson Community Band and the Irving Symphonic Band. At 90, he's still playing. In October 2000 he participated in the Community Band of America trip to the Vatican, Rome. The ensemble participated in the Jubilee celebration attended by 70,000 at St. Peter's Plaza where they performed for Pope John Paul II. They played Verdi's "Nabucco" overture and most of the crowd began to sing when they played the Hebrew chorus section of the piece.
If you are still looking for an opportunity to contribute to our reception on May 14, please contact Patsy Brooks. Patsy and Bob continue to coordinate and provide our lovely receptions, month after month; they are deeply appreciated by all!
Special thanks to Puccini Board members who made our April program such a huge success: Jana Irwin, our treasurer, took all the reservations and was instrumental in organizing greeters and check-in. Mac Irwin selected and procured the nice wines, Susan Fleming, Karen Palmer and Patsy Brooks naturally served on the committee that worked with the caterer. Members of the Theater Guild were also instrumental in the success of the event, notably Don Warnecke who produced the save-the-date and the invitation with the reply information.
I'll look forward to seeing everyone at Faye Briggs' home soon.
Marilyn Halla