THE PUCCINI SOCIETY of DALLAS presents
David Geist and Liz Mikel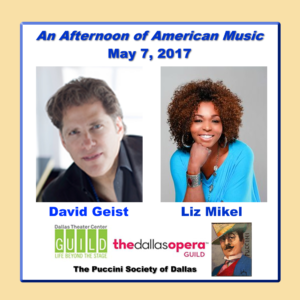 An INVITATION to an Afternoon of American Music
with David Geist and Liz Mikel

At the home of Kathy and Harlan Crow
3:00 PM,
Saturday, May 7, 2017
$75 per person
Complimentary Valet Parking is provided. Enter the property from 4700 Preston Road.
Jointly sponsored by The Dallas Opera Guild,
Dallas Theater Center Guild, and
The Puccini Society of Dallas
Program Schedule
2:30 Doors open (no early entry)
3:30 Program Begins
5:30 Event ends
I just want to send a final reminder about our May 7 event with David Geist at the Harlan Crow library. Reservations are filling to capacity quickly. The reservation date was set to close at April 21, and I think we'll be full by then. If you plan to come and haven't sent in your check, please do so tomorrow! Members who attended last year know what a special event this is, and those who regret not being there still have time to reserve.
I'll look forward to seeing you there for some wonderful American music!
Marilyn Halla
David Geist and Liz Mikel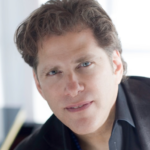 Santa Fe-based pianist extraordinaire and cabaret host David Geist and actress Liz Mikel will join you for an afternoon of sparkling entertainment in the spectacular home of Kathy and Harlan Crow! We will be guests in the Crow library, which is known for its historical treasures that document American presidents. Weather permitting, we may also enjoy the Sculpture Garden.
David Geist is an acclaimed performer of show tunes and American music, including Gershwin classics. On Broadway, his piano has powered Cats, Les Miserables, Miss Saigon, The Lion King, Wicked, The Producers, and many others. He is also an accomplished conductor, composer, and coach to several world-famous vocalists.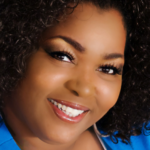 Beloved Dallas-based entertainer Liz Mikel will bring her strong, versatile voice to sing a few numbers with David! Liz has performed on Broadway, in many Metroplex theaters and jazz venues, on television and in film.
Enjoy all of this and meet other fans of the performing arts over drinks and hors d'oeuvres.