The Puccini Society of Dallas,
the Dallas Opera Guild, and the Dallas Theater Center Guild present
An Afternoon of American Music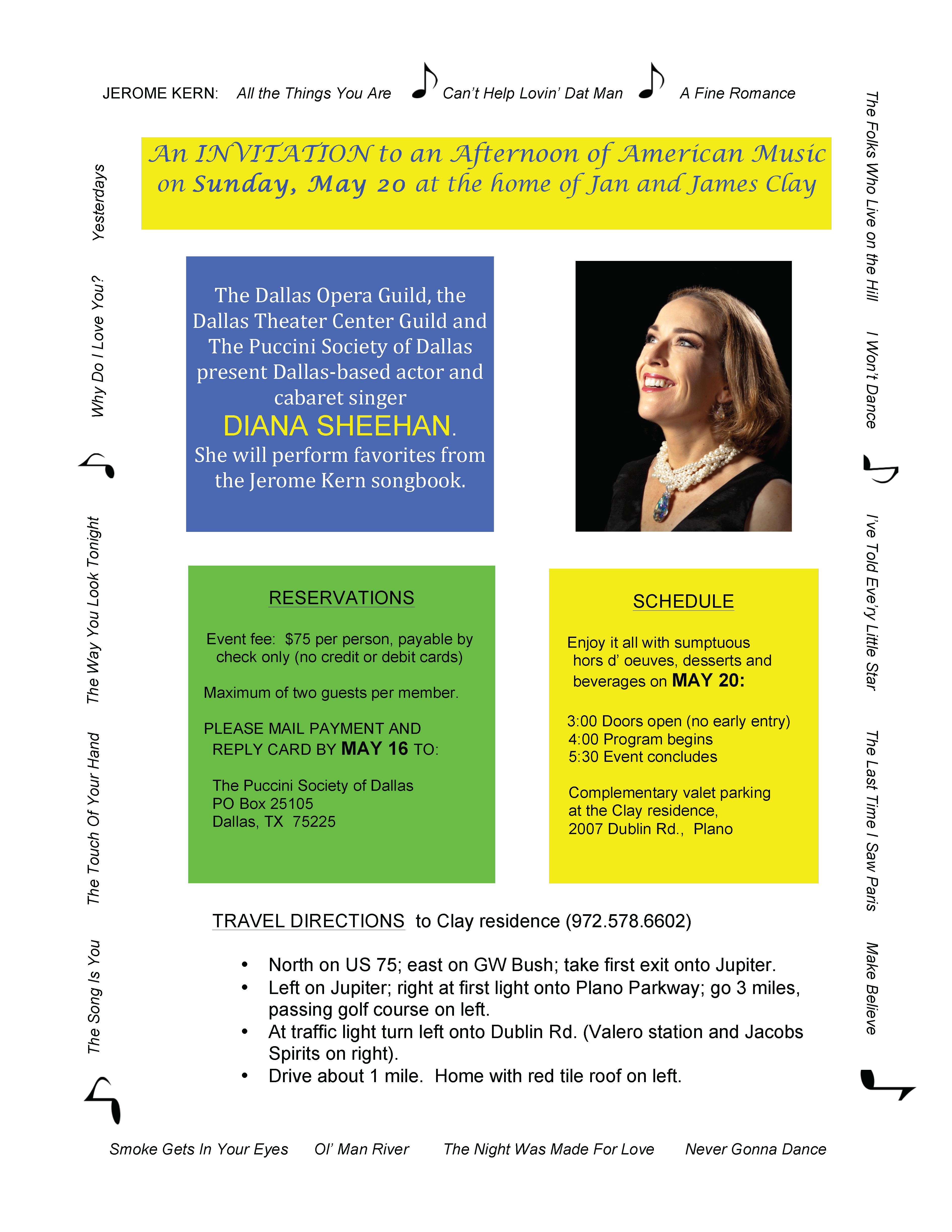 The Dallas Opera Guild, the Dallas Theater Center Guild and The Puccini Society of Dallas present Dallas-based actor and cabaret singer DIANA SHEEHAN performing songs from the Jerome Kern Songbook.
Sunday, May 20, at 3:00 pm.
At the Home of Jan and James Clay
2007 Dublin Rd.,
Plano , TX 75094
$75 per person
Complimentary Valet Parking
RESERVATIONS
Event fee: $75 per person, payable by check only (no credit or debit cards)
Maximum of two guests per member.
PLEASE MAIL PAYMENT AND REPLY CARD BY MAY 16 TO:
The Puccini Society of Dallas
PO Box 25105
Dallas, TX 75225
SCHEDULE
Enjoy it all with sumptuous hors d' oeuves, desserts and beverages on MAY 20:
3:00 Doors open (no early entry)
4:00 Program begins
5:30 Event concludes
Puccini Friends:
We hope you plan to attend our program on Sunday, May 20, An Afternoon of American Music with Dianna Sheehan, at the home of Jan and James Clay.
The Clay's home is fabulous, and so is their art collection. The lovely outdoor terrace should be particularly enjoyable in May.
Diana is an outstanding actress/singer and her show should be a real crowd-pleaser! If you check her credits you'll find she has been active in many of our local theaters since coming here from New York, and has won some important awards.
I hope you'll plan to join us and the Opera and Theater Guilds for this joint event again this year. Please note the reservation date deadline is May 16.
Marilyn Halla