The Puccini Society of Dallas Presents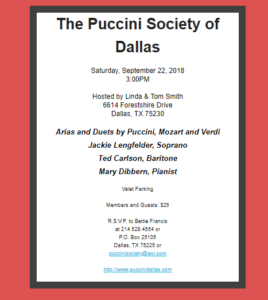 Arias and Duets by Puccini, Mozart and Verdi
Jackie Lengfelder, Soprano
Ted Carlson, Baritone
Mary Dibbern, Pianist
Saturday, September 22, 2018
3:00PM
Hosted by Linda & Tom Smith
6614 Forestshire Drive
Dallas, TX 75230
Valet Parking
Members and Guests: $25
R.S.V.P. to Bettie Francis
at 214.528.4554 or
P.O. Box 25105
Dallas, TX 75225
We all look forward to our first Puccini event of the season, and this particular program will start our season off with a bang! Please see below to find out about these outstanding area singers. I think they'll be singing favorites that are sure to please. Linda and Tom Smith are hosting us in their lovely home, just off Forest Lane, east of Preston Rd.
If you would like to contribute to our reception, please contact Patsy Brooks (hilonote@sbcglobal.net)
The Puccini Board has a wonderful year planned for us and I hope you've renewed your membership. If you haven't already renewed, please send your renewal to P.O. Box 25105, Dallas, TX 75225.
I'll hope to see everyone on Sat.  Please make your reservation with Bettie Frances to let us know you are coming.
Marilyn Halla
About the Singers
Come spend an afternoon with Jacquelyn Lengfelder, soprano, and Theodor Carlson, baritone, as they present some of their favorite arias and duets from the most popular operas of Puccini, Mozart and Verdi. These melodies you will know from the Metropolitan Opera stage and a few toe-tapping intermezzi from the Broadway stage. You'll Laugh! You'll Cry! You'll not soon forget – Teddy & Jackie, WORKING Both Sides of the STREET!
JACQUELYN LENGFELDER recently appeared with the Toccata-Tahoe Symphony Orchestra and Chorus as guest soloist in their Mozart Mass in C minor, and their Opera and Pops Concert in July.  She has appeared with the Plano Civic Chorus as soloist in works including Carmina Burana, Mozart Requiem, and Ralph Vaughn Williams Dona Nobis Pacem. An active performer in musical theater, opera and oratorio, her portrayal of Marian the librarian in The Music Man with Garland Summer Musicals, received a critic's nomination for Best in Theater. Possessing a "soaring and arrestingly luminating" voice,  Jackie also appears in companies including Fort Worth Opera, The Living Opera, Casa Manana, Lyric Stage, Stage West, Voices of Change, Voces Intimae, and the Plano Symphony. Special distinctions include being named a semi-finalist in the Austrian Meistersinger competition, and winner of the concerto competition at Northern Illinois University. Her leading operetta roles with the Ohio Light Opera can be heard on CDs produced by Albany Records.  In May she will be performing with the Toccata Symphony in Eastern Europe.
Besides performing, Jackie owns the classical music agency, Collins Classical, booking the finest performers for private and corporate events. Jackie is also the Executive Director of the Dallas Bach Society, and was previously a board member for Voces Intimae. A native of St. Louis, Ms. Lengfelder holds a Masters of Music from Northern Illinois University and Bachelor of Music from Lindenwood University in St. Charles, MO.
THEODOR CARLSON sings operas of Verdi, Puccini, Wagner and Richard Strauss. Rigoletto and The Flying Dutchman are among roles he has sung in Munich, Hamburg, Berlin, Dresden, and Baden Baden.  After earning his Bachelor's degree in Music at the University of Michigan, Theodor joined the American Opera Center, and went on to begin a twenty-year career in Germany singing in houses such as Stadttheater Aachen, Staatstheater Braunschweig,  Michigan Opera Theater Detroit, Staatstheater am Gärtnerplatz Munich, Musikhalle Hamburg (Laeiszhalle), Theater der Stadt Heidelberg, Stadttheater Hildesheim,  Baadisches Staatstheater Karlsruhe, Staatstheater Kassel, Stadttheater Koblenz, American Opera Center New York, Stadttheater Lübeck, Opera at Michigan, Nationaltheater Mannheim, Mecklenburgisches Staatstheater Schwerin, Münchener Biennale, The Santa Fé Opera, Schwetzinger Festspiele, Nationaltheater Weimar, Opernhaus Zürich.
Now a Dallas resident, in 2016 Carlson was featured in Beethoven's Ninth Symphony with the Thüringen Philharmonic, Galas with the Frankfurt Symphony, as well as The Dallas Opera, the Las Colinas Symphony Orchestra. Theodor Carlson enjoys an active concert and worship career in several Dallas Churches. Theodor Carlson is currently Artistic Director of Voces Intimae in Dallas.