The Puccini Society of Dallas Presents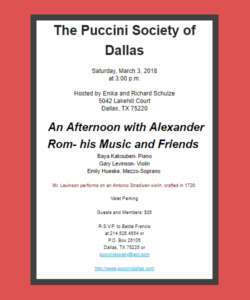 An Afternoon with Alexander Rom
His Music and Friends
Baya Kakouberi – Piano
Gary Levinson – Violin
Emily Hueske – Mezzo-Soprano
Rebecca Pacheco – Piano

Mr. Levinson performs on an Antonio Stradivari violin
crafted in 1726.
Saturday, March 3, 2018
at 3:00 p.m.
Hosted by Enika and Richard Schulze
5042 Lakehill Court
Dallas, TX 75220
When Alexander Rom joined the Dallas Opera after a successful preparation of its chorus for Prince Igor in 1990, he came to a historically Italianate company nicknamed La Scala West. The company was proud of its Italians: co-founder, conductor, and artistic director Nicola Rescignio and Maestro Roberto Benaglio, the legendary chorus master of La Scala. Having studied Italian opera with his longtime mentor and friend Maestro Dick Marzollo, at the time the main vocal coach of the Metropolitan Opera, Alexander Rom successfully continued Dallas Opera's great musical traditions. His deep knowledge of operatic singing and vocal technique along with his experience as Russian opera coach at the Metropolitan Opera has greatly contributed to the sound of today's Dallas Opera chorus: full, vocally expressive, rich, and capable of both pianissimos as well as full fortissimo singing.
A native of Kharkov, Ukraine, Alexander Rom graduated from the Leningrad Conservatory of Music, now The N. A. Rimsky-Korsakov St. Petersburg State Conservatory, with a master's degree in choral conducting. In addition to his work as an opera chorus master and choral conductor,
Alexander Rom is also the composer of numerous art songs, pieces for mixed chorus, and instrumental music which have been performed in both the United States and abroad.
https://www.alexanderrom.com/compositions/
The Puccini Society of Dallas
P.O. Box 25105
Dallas, TX 75225 or
puccinisociety @ aol.com
http://www.puccinidallas.com