The Puccini Society of Dallas Benefit Concert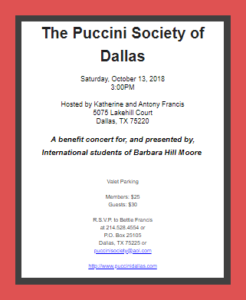 A benefit concert for, and presented by,
International students of Barbara Hill Moore
Saturday
October 13, 2018
3:00PM
Hosted by Katherine and Antony Francis
5075 Lakehill Court
Dallas, TX 75220
Valet Parking
Members: $25 – Guests: $30
R.S.V.P. to Bettie Francis
at 214.528.4554 or
P.O. Box 25105
Dallas, TX 75225 or
puccinisociety @ aol.com
Please save the date of Oct. 13 for our next Puccini event. It will be held at the home of Katherine and Antony Francis, 5075 Lakehill Court, 75220 (in the same block at the Schulze' home).
Students of Barbara Hill Moore will again present the program, which is always outstanding. Barbara hopes to raise funds for the scholarship fund for these international students. As always, she has several students from South Africa as well as a star soprano (doing graduate work) from Mexico City. We will offer the opportunity to make a donation toward their scholarships. Barbara is well known for her outreach to these students and the positive effect it has for both SMU and for our community and country.
We'll met at the regular time, 3:00, with valet parking available. I hope you'll put this on your calendar.
Marilyn Halla
http://www.puccinidallas.com