Puccini Society of Dallas Presents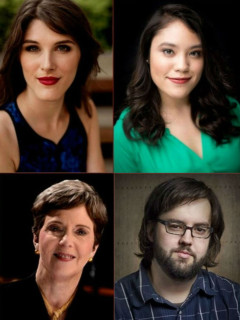 Women's Voices in Concert
with
Gabrielle Gilliam, soprano
Kayla Nanto, mezzo soprano
Mary Dibbern, pianist
and Ryan Lescalleet, stage director
Featuring the Poetry and Music of
Extraordinary Women Composers
Saturday, Jan. 25
at the home of
Enika and Richard Schulze
5042 Lakehill Court,
Dallas, TX 75220
3:00 p.m.
Members $25 – Guests $30
Valet Parking
Music sung in English to settings of poetry and music by women, as well as music by men that examines women's life experiences from the male viewpoint. The poet Emily Dickinson is featured and the music of Amy Beach, Aaron Copland, Madeleine Dring, Jake Heggie, Mary Howe, Lori Laitman, Liza Lehmann, and Igor Stravinsky.
---
I hope you plan to join us for this delightful program featuring Mary Dibbern and these outstanding young singers who are part of the Dallas Opera Education and Outreach program. It features poetry and music by women composers entitled "Women's Voices in Concert". Not all the music is in a serious vein, and I think you'll find some of the selections quite humorous and entertaining.

We are always grateful to Enika and Richard Schulze for hosting us in their wonderful home, 5042 Lakehill Court, 75220. We meet at the usually 3:00 with valet parking provided. You may respond to this email or to Jana Irwin; jgirwin@sbcglobal.net
Marilyn Halla
Performer Bios
Soprano Gabrielle Gilliam, a native of Houston, is a recent graduate of UNT with the Master of Music degree in Vocal Performance under the guidance of her voice teacher Professor Carol Wilson. As a vocalist with The Dallas Opera Education and Outreach program since 2016, Gilliam has performed Bastienne in Mozart's Bastien and Bastienne and Dorabella in John Davis' The Bremen Town Musicians. She will make her main stage TDO debut next season in Gluck's Orfeo ed Euridice in the role of Amore. In past seasons, TDO engaged her as understudy for Musetta in La Boheme and Pamina in The Magic Flute. The Texas Classical Review recently praised her performance of Serafina in Donizetti's Il Campanello with Opera in Concert as demonstrating "extraordinary career potential…with a substantial and sweet timbre and bel canto flexibility". With UNT Opera she debuted several major roles including Violetta Valéry in La Traviata, Blanche de la Force in Dialogues des Carmélites, Donna Anna in Don Giovanni, Hanna Glawari in The Merry Widow, Johanna in Sweeney Todd, and Antonia in Les contes d'Hoffmann.
Mezzo-soprano Kayla Nanto is a member of The Dallas Opera's Education and Outreach program where she continues her performances this season in Davies' The Bremen Town Musicians. Concurrently she is also working for The Fort Worth Opera as one of their Lesley Resident Artists. Nanto completed her Master of Music in Vocal Performance at UNT and Bachelor of Music at University of Northern Colorado. Her most recent engagements include Fileno in Clori, Tirsi, e Fileno with the Dallas-based American Baroque Opera, Alto soloist in Handel's Messiah with the Ft. Worth Symphony Orchestra, Alto soloist in Rossini's Petite Messe Solennelle with the University of Wisconsin-La Crosse Choral Union, Suzuki (cover) in Puccini's Madama Butterfly with Opera Ft. Collins, and Ulisse in Orchestra of New Spain's world premiere of Achillo in Sciro.  During her studies, she performed the roles of Siébel in Gounod's Faust, Petra in A Little Night Music, and Flora in Verdi's La Traviata at UNT and at University of Northern Colorado, the title role in Bizet's Carmen, and Angelina in Rossini's La Cenerentola. 
Pianist Mary Dibbern is in her eighth season at The Dallas Opera as Music Director of Education and Family Programs. She received her Master of Music in piano from SMU, studying with Maestro Paul Vellucci. In 1978, she moved to Paris, France, to study with Nadia Boulanger and Dalton Baldwin and to accompany singers studying with Pierre Bernac and Gérard Souzay. Living in Paris for 31 years, she worked internationally as an opera coach for the Opéra National de Paris and other major companies in France, Europe, Asia and the US. She has extensive recital and recording credits with Radio France, Claves, Harmonia Mundi France, Maguelone, Toccata Classics and JTP Productions. She has written eight books on French opera and song repertoire for Pendragon Press (NY) and her editions of vocal music are published by Musik Fabrik (Paris) and Classical Vocal Reprints (USA).
Ryan Lescalleet, staging director, is currently enjoying his eighth season with The Dallas Opera's Educational Outreach where he has served as Touring Manager for eight separate productions. For seven seasons he was also assistant director and this season he has re-staged The Bremen Town Musicians. Next season he will direct TDO's production of Jack and the Beanstalk. Lescalleet also served as Company Manager at Undermain Theatre for nine seasons and helped produce the Festival of Independent Theatres for three seasons. He is committed to spreading theatre and opera to the surrounding community and hopes that you will enjoy today's
RSVP to puccinisociety@aol.com
or P.O. Box 25105Dallas, Texas 75225
or jgirwin@sbcglobal.net