The Puccini Society of Dallas and the Dallas Opera Guild present
"Encore"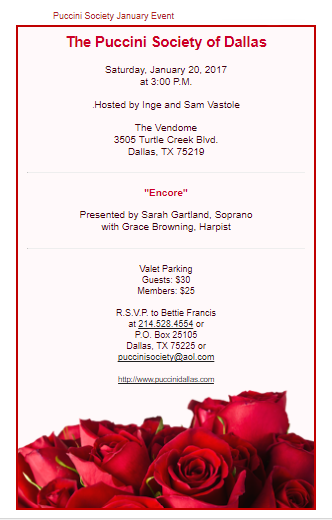 Sarah Gartland, Soprano,
with Grace Browning, Harpist
Saturday, January 20, 2017
at 3:00 P.M.
Hosted by Inge and Sam Vastola
The Vendome
3505 Turtle Creek Blvd.
Dallas, TX 75219
Dear Puccini Friends,
I think everyone would readily agree that our program with Sara Gartland and Grace Browning on January 20, 2018, was not only extremely well received, but perhaps one of our all time favorites. Inge and Sam Vastola graciously invited up to meet in the elegant public room at the Vendome, which was filled to capacity. These two ladies are both such excellent musicians and their presentation was artistic and moving. They presented a wonderful selection of arias and art songs, some familiar and some new and exciting to hear. We were all so pleased to have them present an encore from last year.
Grace announced that she will be going to the Rochester Symphony next fall, but we can continue to hear her at the Santa Fe opera in the summer. Sara had some exciting news of her own; she'll be singing the role of Musetta in next year's Dallas Opera production of "La Boheme" and in another season will sing the title role in Carlisle Floyd's "Susannah". Very exciting news for all!
Many of you contributed to the bountiful reception with delicious offerings. Thanks to all for your generous spirit. And as always thanks to Patsy and Bob Brooks for coordinating this important part of our event. Bettie Francis and Jana Irwin checked in attendees, Tamora Wood sent out the beautiful invitation (Carolyn mailed some of them), and most importantly Inge and Sam served as our generous hosts! I continue to have great pride in our organization and the way each member carries their own responsibility so ably and dependably. Ed Flaspoehler took lots of pictures which will soon appear on our web site as a reminder of this most special afternoon.
Marilyn Halla
Photo Gallery
Photos by Ed Flaspoehler