The Puccini Society of Dallas presents
Mezzo Soprano Natalie Arduino, Soprano Jennifer Chung,
Bass Baritone Donnie Ray Albert, with pianist Mary Dibbern
A Program of Songs for a Summer Evening
Tuesday, June 2, 2015, at 6:30 p.m.
Hosted by Enika & Richard Schulze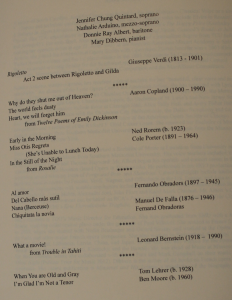 I'm still reveling in the memory of our fabulous event last night. I think we can consider ourselves fortunate and well connected to have those great singers step in as a substitute program! Everyone was thrilled with each presentation on the program—none of which has ever been done for our group before. Credit really goes to Mary Dibbern, the one who's a vital part of the professional music life of Dallas, for arranging such a thrilling evening of singing. Everyone agrees that these fine artists are all just tops, Mary of course included. She is a vital part of our society as well.
It is always a pleasure to enjoy an evening with Enika and Richard in their beautiful home. Their hospitality is appreciated by all. What a perfect evening, all around. Pictures should soon be posted on our web site, and are also posted by Ed Flaspoehler on my Facebook page.
Again, I want to express my personal appreciation to all the members of our board who make all our events run smoothly, and divide the responsibilities. One other member who made a lovely contribution to last evening is Pat Irvin who made her famous pralines again. I wouldn't ever miss an opportunity to enjoy those! And thanks to each of you for your ongoing support of our society.
We have some very exciting plans for programs next year with outstanding artists whom we haven't heard before. Membership letters will be mailed in the fall, and I'll look forward to seeing everyone again next year. Meanwhile, I hope each of you have plans for some nice summer R&R.
Sincerely,
Marilyn
The Puccini Society of Dallas
P.O.Box 25105
Dallas, TX 75225
[email protected]