THE PUCCINI SOCIETY of DALLAS
presents
David Geist and Liz Mikel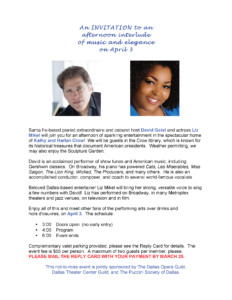 An INVITATION to an afternoon interlude of sparkling musical entertainment and elegance
with David Geist and Liz Mikel

At the home of Kathy and Harlan Crow
3:00 PM, Saturday, April 3, 2016
$55 per person
jointly sponsored by The Dallas Opera Guild,
Dallas Theater Center Guild, and
The Puccini Society of Dallas
Santa Fe-based pianist extraordinaire and cabaret host David Geist and actress Liz Mikel will join you for an afternoon of sparkling entertainment in the spectacular home of Kathy and Harlan Crow! We will be guests in the Crow library, which is known for its historical treasures that document American presidents. Weather permitting, we may also enjoy the Sculpture Garden.
David Geist is an acclaimed performer of show tunes and American music, including Gershwin classics. On Broadway, his piano has powered Cats, Les Miserables, Miss Saigon, The Lion King, Wicked, The Producers, and many others. He is also an accomplished conductor, composer, and coach to several world-famous vocalists.
Beloved Dallas-based entertainer Liz Mikel will bring her strong, versatile voice to sing a few numbers with David! Liz has performed on Broadway, in many Metroplex theaters and jazz venues, on television and in film.
Enjoy all of this and meet other fans of the performing arts over drinks and hors d'oeuvres, on April 19. The schedule:
• 3:00 Doors open (no early entry)
• 4:00 Program
• 6:00 Event ends
Complementary valet parking provided; please see the Reply Card for details. The event fee is $55 per person. A maximum of two guests per member, please. PLEASE MAIL THE REPLY CARD WITH YOUR PAYMENT BY MARCH 25.
This not-to-miss event is jointly sponsored by The Dallas Opera Guild, Dallas Theater Center Guild, and The Puccini Society of Dallas.