The Puccini Society of Dallas Presents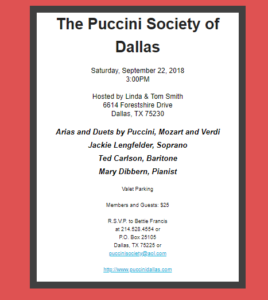 Arias and Duets by Puccini, Mozart and Verdi
Jackie Lengfelder, Soprano
Ted Carlson, Baritone
Mary Dibbern, Pianist
Saturday, September 22, 2018
3:00PM
Hosted by Linda & Tom Smith
6614 Forestshire Drive
Dallas, TX 75230
Valet Parking
Members and Guests: $25
R.S.V.P. to Bettie Francis
at 214.528.4554 or
P.O. Box 25105
Dallas, TX 75225
Puccini Members:
We certainly got the new year off to a great start with a Fabulous program of Arias and Duets by Puccini, Mozart and Verdi. Jackie Lengfelder and Ted Carlson presented an absolutely stunning program with Mary Dibbern in the lovely home of Linda and Tom Smith. It was so nice to see friends who've been scattered over the summer and to catch up with everyone.
Our board met at the end of the summer to plan for this year's schedule of programs, and we expect to have another stellar year. I'll send the schedule
to everyone.
Thanks to Mac and Jana for hosting our board meeting, and to all who participated. There is one change to the board membership this year. Sam Vastole has served on our board for a number of years as Treasurer and then as Vice President and is retiring. Sam, we all appreciate your years of dedication to our group and your efforts toward it's continuing success. Stepping into his place, Mac will continue keeping our 501c3 designation current and filing an annual return. As you all are aware, Mac also is a big contributor to our reception at each meeting with his beautiful, delicious creations!
Patsy as always coordinated a beautiful and bountiful reception, and as always is a major contributor. Please let Patsy know when you would like to assist in any way. Judy and Marty Toby are taking renewals for this year following their fine letter to members. Many have renewed, and the Toby's will be happy to continue to accept renewals now. Please mail your renewal to P.O. Box 25105, Dallas, 75225.
Tamora is sending out our beautiful invitations again this year, Bettie is receiving reservations, and Jana is our excellent Treasurer. Marion arranges for parkers, and together our team assures us of lovely meetings, year after year. Ed continues to keep our web site up to date and announces our meetings on Facebook as well. Thanks to all!
Our next event is scheduled for Oct. 13 with a program presented by the SMU graduate students of Barbara Hill Moore. Details of that event will come with your invitation soon.
I look forward to seeing everyone in Oct.
Marilyn Halla