THE PUCCINI SOCIETY OF DALLAS Presents: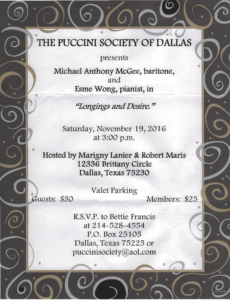 Michael Anthony McGee, baritone
and
Esme Wong, pianist
"Longings and Desire"
Saturday, November 19, 2016
at 3:00 p.m.
Hosted by Marigny Lanier & Robert Maris
Everyone who attended the Puccini program on November 19th featuring Michael Anthony McGee, baritone, with Esme Wong collaborating on the piano, were thrilled by his wonderful voice, his artistry, his ability to engage the audience and his skillful communication of the setting and emotion of the works he presented. All of us will happily send him some good thoughts and vibes on Tues. as he auditions for the Met in NYC. A Dallas native and graduate of Booker T. Washington HS, he went to NYC to study and pursue his career at age 18. What a wonderful discovery we made yesterday when we heard this fine young singer!
We were also delighted to be in the new home of Marigny and Robert. It is a warm, beautiful setting for a recital, and their welcoming hospitality was enjoyed by all. Thank you from each of us for inviting us!
Someone suggested that the Puccini Society is one of the few organizations in Dallas that isn't loosing members—we are gaining new ones. We were happy to welcome guests among our attendees yesterday. Mac Irwin provided much of the delicious food for our reception; luckily for us, he's a masterful cook among many talents. Bettie as always sent invitations and took reservations, with check-iin assistance from Joe Abbey. We all thank her for her continuing and tireless work to make us the active and vital group we've become. Also our always reliable Hospitality Chairs, Patsy and Bob make certain no one goes away thirsty! Thanks as always to Marion for arranging the valet parking. The teamwork exhibited by our wonderful members is what makes us the organization we are.
This also brings us to thoughts and busy plans for Thanksgiving. Yesterday during our wonderful program, and again during the fine DSO concert that evening, I was reminded of the importance of the inspiration and joy that music brings to each of our lives. We are so blessed and enriched by these moments of beauty. I am particularly thankful for this and equally thankful for your friendship, which is also beautiful and enriching. My best wishes go out to each of you and your families and friends as you celebrate this meaningful holiday.
Marilyn Halla
Photo Gallery

Photos by Brenda Neel Hight
The Puccini Society of Dallas
P.O. Box 25105
Dallas, TX 75225