THE PUCCINI SOCIETY OF DALLAS
presents
The Wind Song Trio
Haley Sicking, soprano, Robin Korevaar, clarinet, and
Jonathan Tsay, piano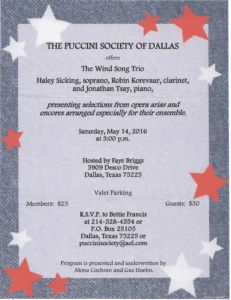 presenting selections from opera arias and encores arranged especially for their ensemble
Saturday, May 14, 2016
Puccini Society at 3:00 p.m.
Reception at 4:00 p.m.
Hosted by Faye Briggs
5909 Desco Drive
Dallas, Texas 75225
Valet Parking
Guests: $30 Members: $25
Program is presented and underwritten by Mona Cochran and Gus Hoehn
Friends:
As we reach the end of our 20th year in the Puccini Society, I want to once again thank each of your for your participation. Our final program drew a sell-out crowd to enjoy the exceptional Wind Song Trio. Faye Briggs hosted us in her beautiful home, and at one point commented, "I didn't know my piano could do that!". Haley Sicking, Robin Korevaar, and Jonathan Tsay presented a fabulous program showcasing their exceptional talent. The arrangements of familiar opera melodies for soprano, clarinet and piano were wonderful! We all send our sincere thanks to Gus Hoehn and Mona Cochran of their generous underwriting of this memorable afternoon.
We all send a collective "Thank You" to our board members who have insured another very successful year. Bettie Francis produced and sent invitations and took reservations, Jana Irwin keeps excellent track of all our financial transactions, Martin and Judy Toby have overseen the growth of our membership, and Patsy and Bob Brooks organized and facilitated our lovely receptions at every meeting. Bob is always our welcomed wine server! Thanks too to Marion Dunton for arranging for locations and parkers. Thanks to Sam Vastola who assisted Bettie with check-in yesterday in Jana's absence. Ed Flaspoehler took lots of nice pictures and will update our web site. Please check it out! Without the dedicated and faithful cooperation of all our leaders, our group could not flourish as it does.
Many of you have contributed delicious food to the receptions; thanks to each of you, and to Pat Irvin (best-in-the-west pralines), Deidra Cizon, Karen Palmer, Ketty Fitzgerald and Patsy Brooks for our May reception. I think we all agree this past year has been more than successful, and one of the best yet! There are some programs lining up for next season which I think you'll find exceptional as well, and we plan to begin the season in September with a 20th anniversary party hosted by Bettie Francis.
It is a joy for me to serve as your president. Thank you for allowing me to be a part of our musical afternoons together! Have a wonderful summer, and I'll look forward to seeing everyone together again in September.
Marilyn Halla
Program Photos
Event Photos
Photos by Ed Flaspoehler for the Puccini Society of Dallas