The Puccini Society of Dallas Presents:
An Afternoon with Wagner: from Song to Opera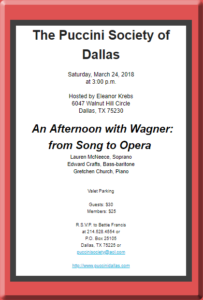 Lauren McNeese, Mezzo-Soprano
Edward Crafts, Bass-baritone
Gretchen Church, Piano
Saturday, March 24, 2018
at 3:00 p.m.
Hosted by Eleanor Krebs
6047 Walnut Hill Circle
Dallas, TX 75230
Valet Parking
Guests: $30 – Members: $25

R.S.V.P. to Bettie Francis
P.O. Box 25105
Dallas, TX 75225 or
puccinisociety @ aol.com
Our next event is planned for March 24, 2018. Eleanor Krebs will again host us in her lovely home.
Please make plans to join us to hear mezzo-soprano Lauren McNeese, along with Edward Craft, bass-baritone, who is a favorite with our group. Lauren will be singing in the spring Ring Cycle with the Seattle Opera, and Edward is a veteran of Wagner productions world-wide.
With this program, The Puccini Society will pay homage to Richard Wagner and his music. This promises to be another special afternoon you are sure to enjoy.
I look forward to seeing you all again soon.
Marilyn