THE PUCCINI SOCIETY OF DALLAS
&
THE WAGNER SOCIETY OF DALLAS
&
Desirée Mays, author and lecturer
present
Madama Butterfly: Myth or Reality
and
Wagner's Women: Real and Imagined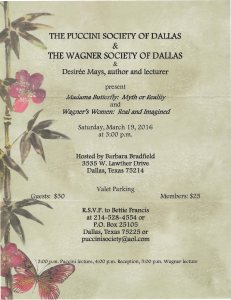 Saturday, March 19, 2016
Puccini Society at 3:00 p.m.
Reception at 4:00 p.m.
Wagner Society at 5:00 p.m.
Come for One or Come for Both
Hosted by Barbara Bradfield
3535 W. Lawther Drive
Dallas, Texas 75214
Valet Parking
Guests: $30 Members: $25
Puccini Society Members
R.S.V.P. to Bettie Francis
at 214-528-4554 or
P.O. Box 25105
Dallas, Texas 75225 or
[email protected]
Wagner Society Members
R.S.V.P. to Roger Carroll
at 214-827-7352 or
[email protected]
3:00 p.m. Puccini lecture, 4:00 p.m. Reception, 5:00 p.m. Wagner lecture
Saturday's program was another highlight in our Puccini season. It was so good to have a big crowd, and to have Wagner Society people with us as well. Those who were able to hear both lectures probably enjoyed the Wagner story as much as the intriguing Butterfly background and history. Desiree will present the Butterfly lecture to the Metropolitan Opera audience in a couple of weeks. She is really a remarkable lady; her research is very thorough, and her presentations are always interesting and informative. No wonder she's in demand. The book she referenced is written by Jan van Ryi, and is called "Madame Butterfly, Japonisme", Puccini and the search for the real Madame Butterfly.
Barbara Bradfield's fabulous home was a perfect venue for this program, and her hospitality is unrivaled. She makes us feel so welcome and at home! I know we all enjoyed being in her lovely home, and enjoying a lovely early spring day at White Rock Lake. Aren't we fortunate to be invited to such wonderful homes! As usual, Ed Flaspoehler has posted very nice pictures of our meeting on our website. The reception was bountiful and delicious; so many contributed lovely dishes which were enjoyed by all. Thanks to each of you who participated! As always too; thanks to Bettie for invitations and reservations, to Jana and Mac for check-in and tasty food, Patsy and Bob for the well planned reception and bar service, and to Marion for valet arrangements.
Judy and Martin have been busy receiving reservations for our April 3 event, and I think it is full. Reservations received after the final number is reached will be held on a waiting list. There is plenty of anticipation in the air for this next, very special event. We are thrilled to co-sponsor this program with the Dallas Theater Guild and Dallas Opera Guild. I'll look forward to seeing everyone at the fabulous Crow home.
Many thanks to all for making the Puccini Society such a fine organization for the past 20 years! Everyone who has a responsibility is always dependable, and happily does their part. Yesterday was another good example of friends working together to accomplish a goal we all share. Music lovers are special friends!
Marilyn