THE PUCCINI SOCIETY of DALLAS
presents
David Geist and Liz Mikel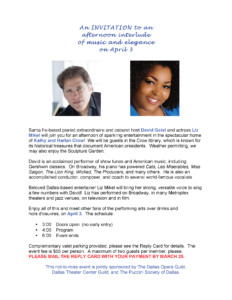 An INVITATION to an afternoon interlude of sparkling musical entertainment and elegance
with David Geist and Liz Mikel

At the home of Kathy and Harlan Crow
3:00 PM, Saturday, April 3, 2016
$55 per person
jointly sponsored by The Dallas Opera Guild,
Dallas Theater Center Guild, and
The Puccini Society of Dallas
Many thanks to all of you who supported out joint meeting in April with the Opera and Theater Guilds.  It was a wonderful day with a sell-out crowd.  We all were delighted to enjoy the Crow's gracious hospitality and to enjoy their truly fabulous home which is a feast for the eyes.  Pianist extraordinaire, David Geist provided a marvelous afternoon of Broadway music which crosses over into the opera house. The program also featured Dallas favorite, vocalist Liz Mikel.  We will certainly remember this outstanding afternoon as a highlight of our Puccini programs!  You will be delighted to know that Harlan Crow was enamored with our program too, and has extended an invitation for us to return!
Special thanks to Puccini Board members who made our April program such a huge success:  Jana Irwin, treasurer of the event, took all the reservations and was instrumental in organizing greeters and check-in.  Mac Irwin selected and procured the nice wines. Susan Fleming, Karen Palmer and Patsy Brooks naturally served on the committee that worked with the caterer. Members of the Theater Guild were also instrumental in the success of the event, notably Don Warnecke, who produced the save-the-date and the invitation with the reply information.
Many thanks, also, to Sharon Knowles and Patrick Stanfill, who shared their wonderful photos with us.
Marilyn Halla
Photos by Patrick Stanfill
Photos by Sharon Knowles