The Puccini Society of Dallas Presents
Scenes from The Marriage of Figaro and Other Arias
Christopher Curcuruto – Bass-Baritone
Ashley Townsley – Soprano
Stephen Dubberly – Piano
March 11, 2023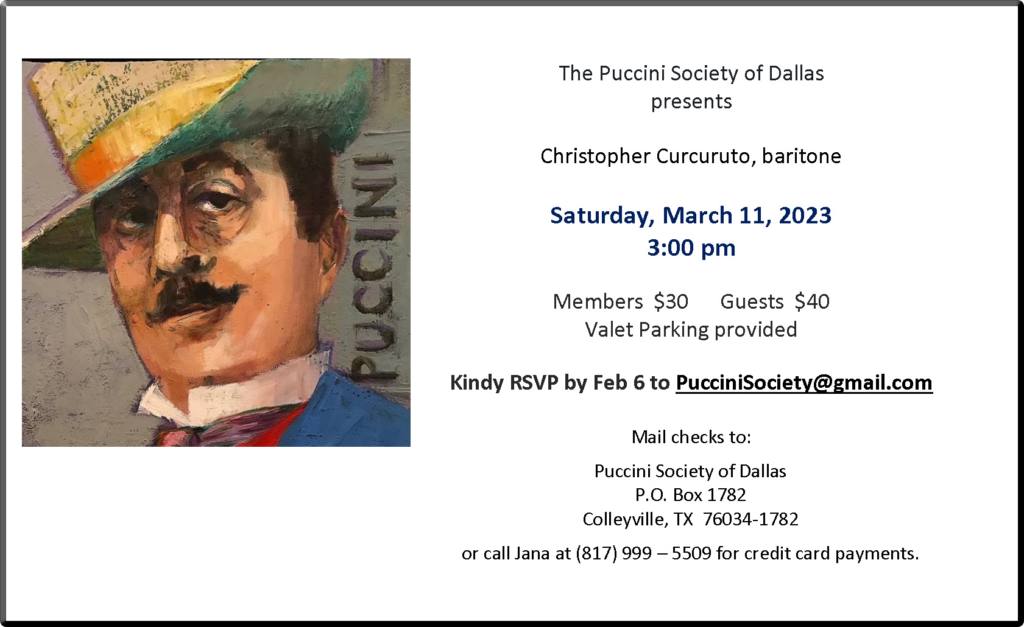 Puccini Friends;
Christopher Curcuruto will joined by Ashley Townsley to present our program on March 11. You may remember Christopher from our program last May at the Crow home. He portrayed the role of Gianni Schicchi and was quite funny as well as a fine singer. He and Ashley will present a scene from Mozart's Marriage of Figaro together for our program, as well as other arias. These two very accomplished young artists have quite a lot of opera experience as you see from their enclosed bios. Our own Stephen Dubberly will provide piano collaboration for this beautiful and entertaining afternoon.
Marilyn Halla, President
Puccini Society of Dallas
---
Puccini Friends;  Yesterday's program (March 11, 2023) at the lovely home of Susan and Mark Geyer featured an outstanding program which was thoroughly enjoyed by our members and guests.  Soprano Ashley Townsley and bass baritone Christopher Curcuruto presented scenes from Mozart's Marriage of Figaro, Carlyle Floyd's Susanna, and Puccini's Gianni Schicchi which were beautifully sung and dramatically effective.  Other arias (Wagner, Massenet) were featured as well with the skillful and artistic collaboration of pianist Stephen Dubberly, whose birthday we celebrated.
As always, a beautiful reception followed under the supervision of our culinary artist, Mac. We all appreciate his talent and ongoing leadership! Thanks also to Jana who invites and welcomes us each time. Everyone appreciates Bob, our accomplished tender of the beverages who faithfully serves us, along with Patsy who contributes to the reception. Thanks to Marion for arranging for the Parkers. This team, all together make our society work!

We hope to have a final program to end our season and that will be announced when plans are finalized. Until then, enjoy the Dallas Opera's production of Cosi fan tutte and the Opera Guild's Vocal Competition this month.
Marilyn Halla
Puccin1 Society of Dallas
---
Artist Bios
Christopher Curcuruto – Bass-Baritone
Praised for his "satisfyingly rich" and "resonant" tone, bass-baritone Christopher Curcuruto is quickly making a name for himself both as a soloist and professional opera singer. Hailing from Sydney, Australia, Mr. Curcuruto's most recent engagements include the mainstage role of Alidoro in Rossini's Cenerentola as a Mary Ragland Emerging Artist with Nashville Opera. Since 2019, Christopher has been a Studio Artist with Fort Worth Opera and an Education Artist with The Dallas Opera since 2020. Previously, Christopher was a Resident Artist at the Pittsburgh Festival Opera and Mastersingers Program for Young Dramatic Voices in 2019 under dramatic soprano Jane Eaglen, and was a Young Artist with Pacific Opera (Sydney) from 2015 -2018. Presently, Mr. Curcuruto is completing a Doctor of Musical Arts (Vocal Performance) degree at the University of North Texas under the tutelage of internationally-renowned voice teacher and pedagogue, Dr. Stephen Austin, and is the recipient of a competitive Winspear Opera Scholarship.
In 2017, Christopher was the recipient of the Australian Elizabethan Theatre Trust Overseas Music Scholarship, which allowed him to participate in the Varna International Opera Academy where he made his international debut singing the roles of Leporello and Masetto in Don Giovanni at the Stara Zagora State Opera, Bulgaria. Christopher has appeared in some of Australia's most prestigious competitions as a Finalist in the Opera Foundation for Young Australians' Lady Fairfax Scholarship in 2017, a Finalist in the Sydney Eisteddfod Opera Awards in 2016 and 2017, and most recently as a Finalist in the Sydney Eisteddfod Opera Scholarship (formerly the McDonalds Aria Competition).
Christopher graduated from the prestigious Western Australian Academy of Performing Arts (WAAPA) with a Graduate Diploma of Music and holds an Honours degree in Theatre Performance from the University of New England. Christopher has had the opportunity to work with some of Australia's best teachers including Patricia Price (2013), Linda Barcan (2013-14), Gregory Yurisich (2014), Dr Rowena Cowley (2015-18), and most recently with Glenn Winslade (2018). Christopher has also coached extensively with Artistic Director of Pacific Opera, Simon Kenway, and works regularly with Bradley Gilchrist and Alan Hicks.
Ashley Townsley – Soprano
Ashley Townsley, soprano, is widely applauded by audiences for her sparkling high notes and equally effervescent stage presence, exuding a natural charm that manifests itself in radiant vocal phrasing. Currently based in Texas and a Houston native, Ashley has made a significant debut with the Houston Grand Opera, giving the world the premiere of Jake Heggie's Pieces of 9/11 Memories from Houston in 2012.
In 2021, Ashley made her UNT Opera debut as Amor in Gluck's Orfeo ed Euridice. Most recently, she performed as Stella in UNT Opera's production of André Previn's A Streetcar Named Desire. Other operatic credits include; Susanna (Le nozze di Figaro), Pamina (Die Zauberflöte), Madame Goldentrill (The Impresario), Second Lady (Moscow, Cheryomushki–Shostakovich), as well as several chorus roles (Il cappello di paglia di Firenze– Rota, Salsipuedes– Catán) with the Moores School of Music (University of Houston).
As a talented cross-over artist with finely honed stagecraft skills and a flexible and secure vocal technique, Ashley is also passionate about musical theatre performance and has made debuts in the roles of Johanna (Sweeney Todd), Hattie (Kiss Me Kate), Waitress (Rock of Ages), Irene (Footloose), and Kate (Legally Blonde).
Ashley has also distinguished herself in concert repertoire as a consistent and reliable soloist, appearing in works including Mozart's Coronation Mass, Handel's Messiah, and Haydn's Lord Nelson Mass with various orchestras and ensembles, including the UNT Symphony Orchestra, Louisiana Choral Foundation, and the Lake Charles Messiah Chorus. Ashley has also enjoyed major competition successes, most recently winning first place in the NATS Adult Women College Division in 2019, and previously winning second place in the NATS Senior Women College Division (2017) and first place in the NATS Greater Houston Chapter (2010,2012). Recently, Ashley was selected as a semi-finalist in the University of North Texas Concerto Competition.
Ashley graduated in Fall of 2021 with a Master of Music in Vocal Performance with a related field in Opera from the University of North Texas, where she studied under internationally renowned tenor, Richard Croft. Previously, Ashley commenced studies in music at the University of Houston, and later earned a Bachelor of Music in Vocal Performance from McNeese State University where she held the competitive Juliet Hardtner Music Scholarship. As a recipient of the Bill and Margot Winspear Opera Scholarship, she is currently pursuing a Graduate Artist Certificate in Opera at the University of North Texas where she continues to study privately, in the studio of international soprano, Carol Wilson.