The Puccini Society of Dallas Presents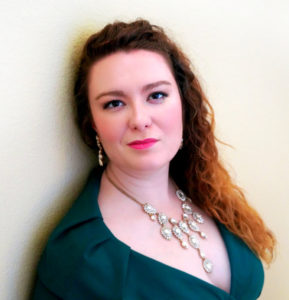 Hilary Grace Taylor, soprano
"From Madness to Seduction"
Saturday, May 8, 2021
3:00 P.M.
At the home of Enika and Richard Schulze
5042 Lakehill Court, 75220
RSVP to jgirwin@sbcglobal.com
Members $25 Non Members $30
Friends;

Many of us are looking forward to next Saturday (May 8) when we have a regular, indoor Puccini concert for the first time in a year and a half! We will meet at the home of Enika and Richard Schulze (5042 Lake Hill Court) at our regular 3:00 p.m. For those who wish to sit outdoors, seating on the patio just outside the sliding glass doors of the music room will be offered. We kindly request that everyone who attends has been fully vaccinated, which thus allows us to gather safely with masks indoors. Our reception will be held outdoors.
In order to provide a better response email, Jana Irwin has renewed our old Puccini e-mail address. PucciniSociety@gmail.com will be our RSVP address from now on. If you still need to respond please use this address; we'll be delighted to see everyone after such a long intermission!
Now I'm happy to share my excitement in presenting our singer for this very special reunion event. I know you will share my enthusiasm for this outstanding young artist and I look forward to seeing everyone together to celebrate our "coming out" party.
Sincerely,
Marilyn Halla
Singer BIO
Hilary Grace Taylor, mezzo-soprano, is a native of Dallas and is becoming known for her versatility of repertoire and love of contemporary music. This year she returns for a second season as an Education Outreach Young Artist with The Dallas Opera and most recently was a Young Artist with Chautauqua Opera in their 2020 virtual season.
Hilary is a Semi-Finalist in the Metropolitan Opera National Council Auditions, the First Place Winner of the Lewisville Lake Symphony International Voice Competition, and a winner of the University of North Texas Concerto Competition. She has debuted a number of opera roles nationally and internationally including Dorabella (Così fan tutte) and Principessa (Suor Angelica) with Gregory Buchalter at Varna International Opera Academy, Giovanna (Rigoletto) with the Sacramento Symphony and Opera, and appeared as the mezzo soloist in the Verdi Requiem at the Durham Cathedral in Durham, England with conductor Paul Leddington Wright at the Brass Band Festival.
Hilary holds degrees from The University of Texas at Austin and the University of North Texas. With UNT Opera she debuted Donna Elvira (Don Giovanni), Desirée Armfeldt (A Little Night Music), Madame de Croissy (Dialogues des Carmélites), Dritte Dame (Die Zauberflöte), Martha (Faust), Mrs. Jones (Street Scene), Regina (Regina) and Gertrude Stein (After Life by Tom Cipullo). Visit the artist's webpage at hilarygracetaylor.com and follow her on instagram @hilarygracetaylor.