A Special Invitation from The Puccini Society Of Dallas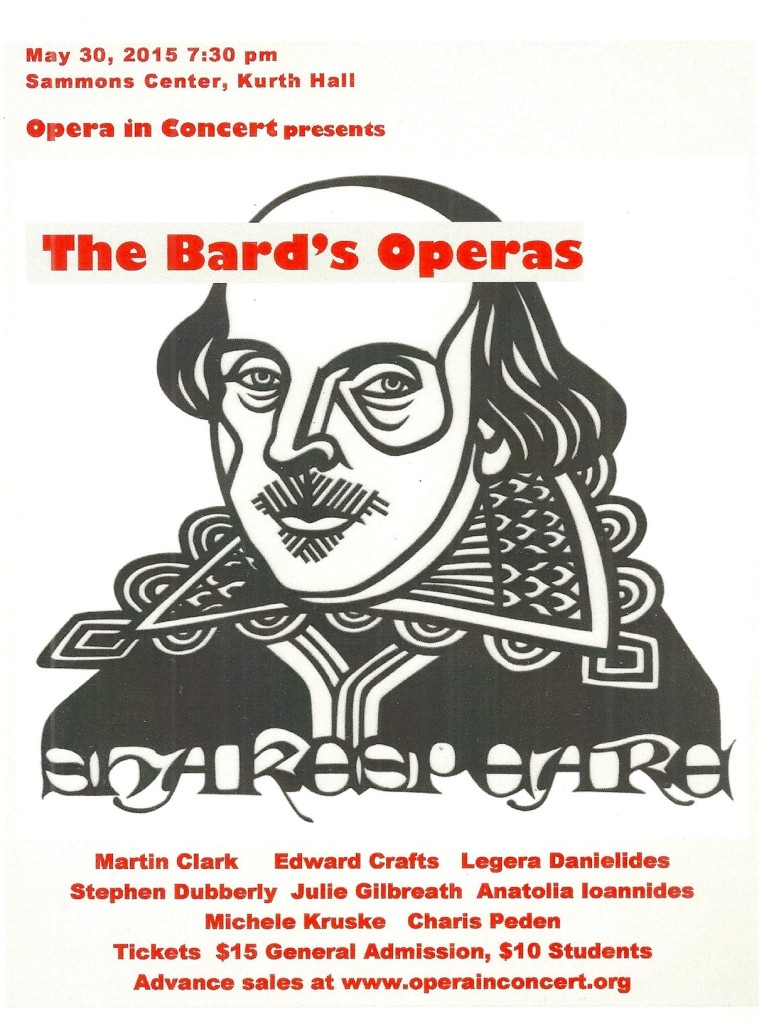 Please join us on
Saturday, May 30th, 7:30 PM 
at the Sammons Center for the Arts
3630 Harry Hines Blvd
for
The Bard's Operas – A Shakespeare-inspired program of operatic music.
Tickets may be purchased in advance at operainconcert.org or at the door.
General Admission: $15.
Students: $10.
Six outstanding singers, including Metropolitan Opera bass-baritone Edward Crafts, will sing arias and ensembles from Verdi's Falstaff and Macbeth, Nicolai's Die Lustigen Weiber von Windsor, Rossini's Otello, Thomas' Hamlet and Hoiby's The Tempest. Two excerpts from Antonio Salieri's Falstaff will also be performed, probably for the first time in Texas. Maestro Stephen Dubberly is the music director.
***
On May 30, Opera in Concert will preset an expanded concert based on our Feb. program that Edward Crafts and Charis Peden presented; this time with additional repertory and a whole group of nice singers. Some of these singers have been participants of the Crafts summer study abroad program in Urbino, Italy, to which we have lent our support. I hope we can support this concert with our attendance. I feel sure we'll all be delighted with their program.
I look forward to seeing you at this  wonderful event.
Marilyn Halla