THE PUCCINI SOCIETY OF DALLAS Presents: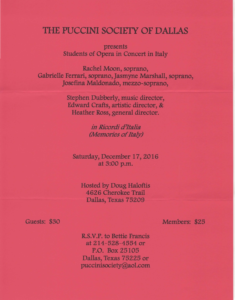 Students of Opera in Concert in Italy
Rachel Moon, soprano, Gabrielle Ferrari, soprano, Jasmyne Marshall, soprano, and Josephina Maldonado, Mezzo-soprano
Stephen Dubberly, music director
Edward Crafts, artistic director &
Heather Ross, general director
"in Ricordi d'Italia"
(Memories of Italy)
Saturday, December 17, 2016
at 3:00 p.m.
Hosted by Doug Haloftis
4626 Cherokee Trail
Dallas, TX 75209
Guests: $30 Members: $25
R.S.V.P. to Bettie Francis
214-528-4554
puccinisociety @ aol.com
The Puccini Society of Dallas
P.O. Box 25105
Dallas, TX 75225
I hope you're making plans to attend our Dec. 17 program at the lovely home of Doug Haloftis in Bluffview. Many of you will remember his home and their outstanding art collection. Our program will be presented by Opera in Concert in Italy students, with Stephen Dubberly, and Edward and Heather Crafts. Members were very enthusiastic in supporting this program last summer, and they are anxious for us to see their progress.
Patsy is planning a special holiday reception, and those who wish to contribute can get in touch with her. This meeting promises to be a festive event, and I hope everyone will be part of it.
It seems our voices, and those of other opera lovers are being heard at WRR, and some reconsideration is occurring. Nothing to actually announce as of now, but I understand a possible proposal may be considered. This week we have a chance to promote the airing of some vocal music (which has almost disappeared) by sending in our requests to the station. They are taking your top ten requests until the end of next week for their top 100 picks to be aired on New Year's Day. Please request specific vocal selections and artists to help bring an awareness of our interest in hearing vocal performance. Go to the WRR.com web site to participate.
I'll look forward to seeing everyone next week and to celebrating the season together with beautiful singing!
Marilyn Halla